Keeping up with the research doesn't have to be so hard
Our Research Reviews make it easy for you to stay up to date, deliver better patient care, and get CPD/CEU points
Save time and money keeping up to date
Receive reliable information in easy-to-understand summaries
Become more confident and effective in your clinical practice
Earn CEUs from home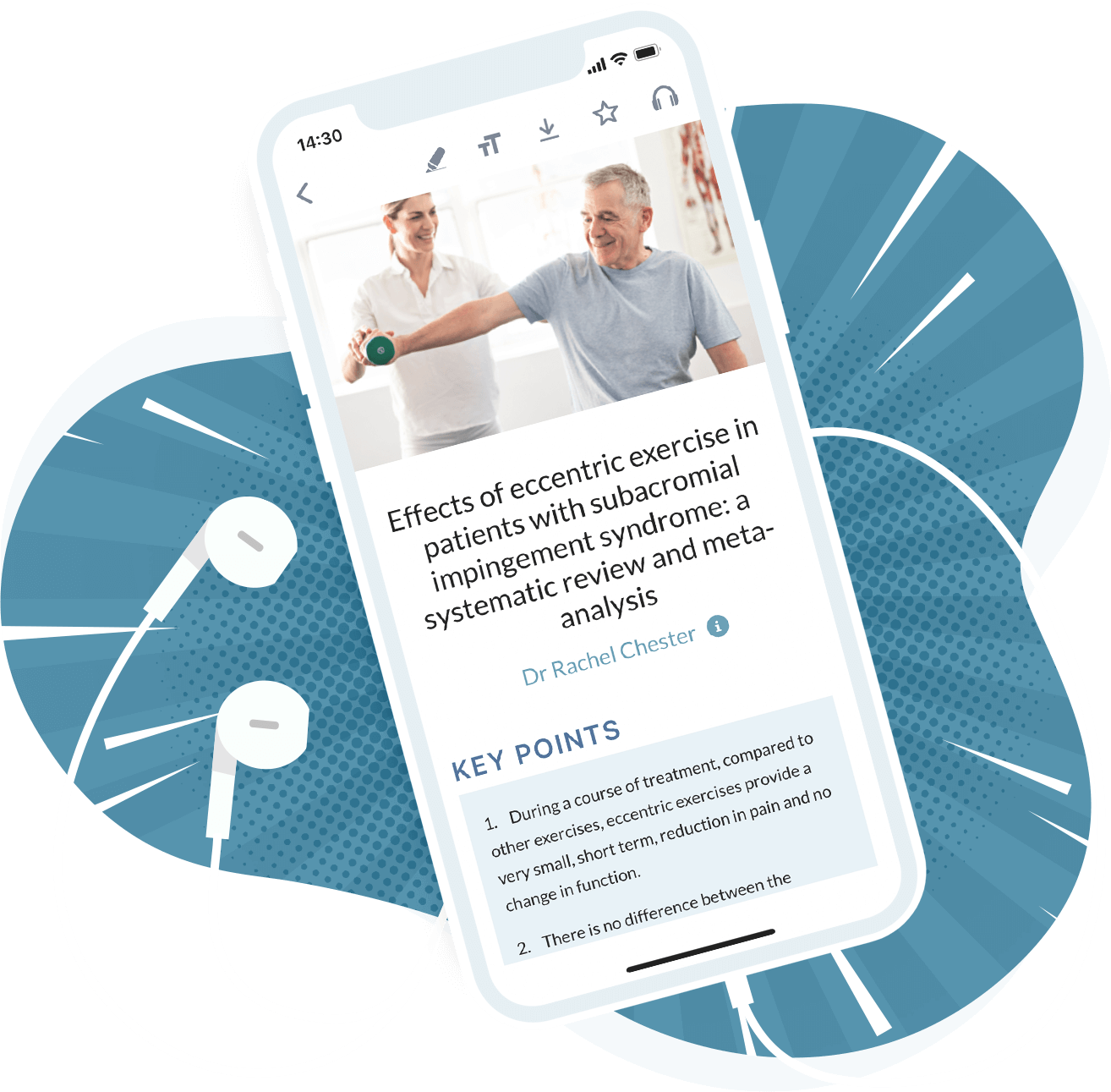 Staying on top of the research in physical therapy is no easy task
Thousands of research papers are published every month
Access to them is expensive
Clinically relevant papers are hard to find
Analysing and interpreting the full text takes a lot of time
Get 12 new research reviews per month
Articles selected and appraised by industry experts
Each review is a 5 minute read
Available as audio
Studies we reviewed in January
Effects of Mobilization on SIJ Dysfunction
Classification Approaches for Low Back Pain
Medial Tibial Stress Syndrome in Runners
Neck Strength + Mobility and Future Neck Pain
Physiotherapy for Chronic Fatigue Syndrome
Running Biomechanics after ACL Reconstruction
Otago Exercise Programme for Older Adults
Exercise for Chronic Low Back Pain
Biomechanical Factors Related to Achilles Tendinopathy
Midseason Screening for Groin Pain in Soccer
MRI for Intratendinous Hamstring Injuries
Exercise-Induced Hypoalgesia in LBP
See for yourself how easy we make it to keep up to date
Each month we'll send you 12 new reviews like this so you can deliver better care for your patients
Now available as an app!
See how it works in just ~30 seconds
Learn from our world-renowned research reviewers
We go through thousands of studies and handpick the research that's most relevant to your clinical practice
Get to know our team
Get started now 👉
Get all this in each monthly issue
Plus, access to our entire library of research reviews (635 studies)
Earn your CEUs from home
Each monthly issue is approved for 1 CEU hour through the Arizona Physical Therapy Association. Accepted in 30 states. See FAQs for details.
Our online education is approved by the
British Journal of Sports Medicine
What people are saying about Physio Network
Peter O'Sullivan
Professor and Specialist MSK Physiotherapist - Curtin University, Bodylogic Physiotherapy, West Australia
We are swamped with new research every day and its so hard to identify the gold from the nonsense - let alone understand what it means for us as clinicians! Having a trusted source that identifies high quality research, extracts the key aspects and then translates it to the clinical world it is so important. Physio-Network does this very well - support it!
Christine Fletcher
Senior Physiotherapist
Physio Network does an amazing job of delivering up to date, easily accessible and Physio specific reviews on current research. It's an invaluable asset for any Physiotherapist today.
Greg Lehman
Physiotherapist, chiropractor and strength and conditioning specialist. Renowned international lecturer.
Keeping up to date is certainly no easy task. Reading this review would be a great start. I liked that the reviews were contained to 2 simple pages and the final page focused on the clinical relevant information.
Peter Malliaras
PhD. Associate Professor and Specialist Tendinopathy Physiotherapist.
Wow, this is an impressive effort to translate research evidence into practice. It covers interesting papers, key methods and limitations, and importantly, the SO WHAT question…how do the findings impact on practice? I always recommend physios read lots of research papers. The Physio Network provides a short cut to doing this.
Dr Xiaoqi Chen
Physiotherapist
Physio Network is a gift for all rehabilitation specialists in a world where we are now inundated with information from everywhere on the internet as we strive to be evidence-based practitioners. It can be quite difficult to decide which material to trust, pursue and apply our knowledge clinically, and Physio Network has made our job a lot easier. I commend the immense effort of its creators to have produced this "one-stop shop" for good quality rehabilitation related education content.
Edward Gellert
Physiotherapist
Physio Network is the most convenient way to keep up with your PD! A monthly dose to keep you across all the relevant topics, and challenge your current thoughts and knowledge. Would highly recommend!
Christopher Johnson
Physical Therapist & Clinical Educator
Keeping up with research these days is next to impossible. Thanks to the Physio Network, we can now access a platform that streamlines meaningful information from experts in the field in a timely manner. The end game is tapping the best available literature on short notice while being able to synthesize and translate it into clinical practice. To this end, the Physio Network has met and surpassed expectations! Im really proud and honored to be a part of this community and contribute where I can. Onward!