Keeping up with the research doesn't have to be so hard
Our Research Reviews make it easy for you to stay up to date, deliver better patient care, and get CPD/CEU points
Save time and money keeping up to date
Receive reliable information in easy-to-understand summaries
Become more confident and effective in your clinical practice
Start 7-day free trial 👉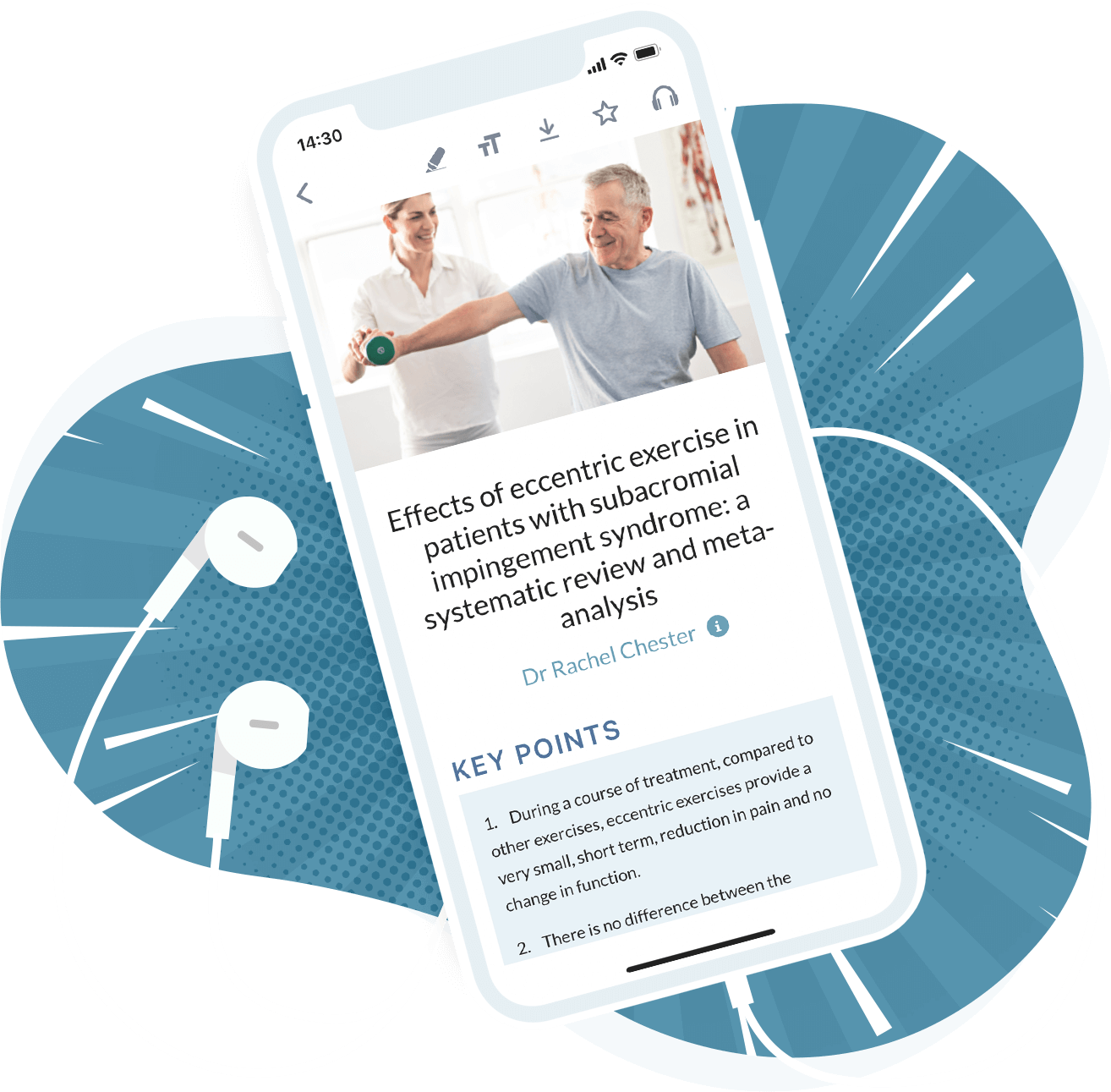 Staying on top of the research in physical therapy is no easy task
Thousands of research papers are published every month
Access to them is expensive
Clinically relevant papers are hard to find
Analysing and interpreting the full text takes a lot of time
Get 12 new research reviews per month
Articles selected and appraised by industry experts
Each review is a 5 minute read
Available as audio
Studies we reviewed in June
Can we really say getting stronger makes your tendon feel better?
RESTORE trial: Cognitive therapy effect on chronic back pain
Impact of neck-shoulder training on chronic headaches in women
Effective treatments for acute lateral ankle sprain
Rise in hamstring injuries in men's pro football: UEFA study
Sciatica: surgical vs non-surgical treatment comparison
Pre-op factors influencing knee arthroplasty patient outcomes
Response rates to non-surgical hip pain treatment
Athletes with slow recovery from sport-related concussion
Calf endurance & Achilles tendon structure in ballet dancers
Psychological effects of hand injuries: comprehensive review
Two-minute vs six-minute walking test for low back pain
See for yourself how easy we make it to keep up to date
Each month we'll send you 12 new reviews like this so you can deliver better care for your patients
Learn from our world-renowned research reviewers
We go through thousands of studies and handpick the research that's most relevant to your clinical practice
Get to know our team
Start 7-day free trial 👉
Get all this in each monthly issue
Plus, access to our entire library of research reviews (838 studies)
Earn your CEUs from home
Each monthly issue is approved for 1 CEU hour through the Arizona Physical Therapy Association. Accepted in 30 states. See FAQs for details.
Our online education is approved by the
British Journal of Sports Medicine
Join the Network
Monthly Subscription
Monthly issues containing 12 research reviews
Read ALL previous issues (>838 reviews)
Audio recordings of each review
Counts for CEUs/CPD points

See FAQs at bottom of page for details

Access to members area
Cancel anytime
Most Popular Option
Yearly Subscription (SAVE 30%)
$9.99
per month
(paid annually)
EVERYTHING in Monthly, plus:
Starts with 7-day free trial*
Download and print ALL previous issues (>838 reviews)
Additional learning resources
Student discountDiscount available for students only. Learn More.
*Try us for free for 7 days! Don't worry, if you cancel during the trial period you will not be charged.
Yearly Subscription
From just $18.33 per month (paid annually) for unlimited access
The easiest way to keep your team up to date
Get EVERYTHING in an Individual Yearly Subscription, plus:
Individual accounts for each staff member
Individual certificates for CEUs/CPD points
Certified 'evidence-based clinic' certificate
Acknowledged on our website as an evidence-based clinicLearn More.
*Try us for free for 7 days! Don't worry, if you cancel during the trial period you will not be charged.
30-day money-back guarantee

Cancel any time
Secure payment
Find out why physios love our research reviews
Ned Mills
Physiotherapist
It's just class! Love backing up my practice with lots of literature and this gives me loads of that stuff. Saves me having to read a full article if I need information quickly.
Elaine Leijser
Physiotherapist
A really useful resource. Time saving and easy to use.
Christine Fletcher
Senior Physiotherapist
Physio Network does an amazing job of delivering up to date, easily accessible and Physio specific reviews on current research. It's an invaluable asset for any Physiotherapist today.
Dr. Luke Perraton
PhD
I am very grateful for Physio network for providing us with a simple and affordable way to access, understand and apply the latest physiotherapy research.
Frequently asked questions (FAQs)
Which countries are Research Reviews approved for CPD / CEUs in?
Research Reviews are approved for CPD/CEU points/hours in Australia, UK, USA (43 states - see below for details), Canada, New Zealand, Ireland, Austria, South Africa and more.
USA - Research Reviews are approved for CEUs in all states apart from Columbia, Louisiana, Maryland, Minnesota, New Jersey, Ohio, Texas and West Virginia. People from these states may use the guidance HERE to apply for individual approval for Research Reviews.
I might be interested. But can I cancel if I don't like it?
Yes! You can cancel your subscription at any time.
In your 7-day free trial you can cancel anytime during the trial period and you won't be charged.
We also offer a 30-day money-back guarantee. So if you're not satisfied for any reason within that period, simply contact us and we'll send you a refund right away.
I'm pretty busy already. Will I need a lot of time for this?
Not at all. In fact, the entire purpose of the Research Reviews is to save you time keeping up with research!
Rather than trawling through all the newly published research yourself, working out which papers are actually relevant, reading the full text of each, and trying to decipher them - we do all this hard work for you.
Each of our reviews takes just 5 minutes to read, so with 12 new reviews in each monthly issue - you can stay on top of the research that matters in just one hour per month, or 15 minutes per week!
Who are the Research Reviews for?
Our Research Reviews are useful for any health care professional wanting to learn more about rehabilitation, including:
Physiotherapists / physical therapists
Exercise physiologists
Sports therapists
Athletic trainers
S&C coaches / personal trainers
Chiropractors
Osteopaths
Massage therapists
I'm not a physio – can I still sign up?
Of course! We may be called Physio Network, but the Research Reviews are designed for anyone wanting to keep up to date with the musculoskeletal / sports rehab literature. If that's you, then we're sure you'll love the reviews!
How does the trial work?
Simply subscribe to a yearly membership to the Research Reviews, enjoy the premium content, and if you don't like what you see - you can cancel anytime before your free 7 days has passed and you won't be charged.
NB: The free trial ends exactly 7 days from when you signed up. For example if you signed up at 10:05am on Sunday (your local time) it will end at 10:05am the following Sunday (your local time).
Do I also get access to Masterclass?
No, Masterclass is a separate subscription to the Research Reviews. If you are interested in subscribing to Masterclass, click here.